How to add a subcontractor to Tender and send all the trade documents automatically
1. Access Your Tender Dashboard

Login to your Commnia account and select your project.


From the Trades menu select

Tender Dashboard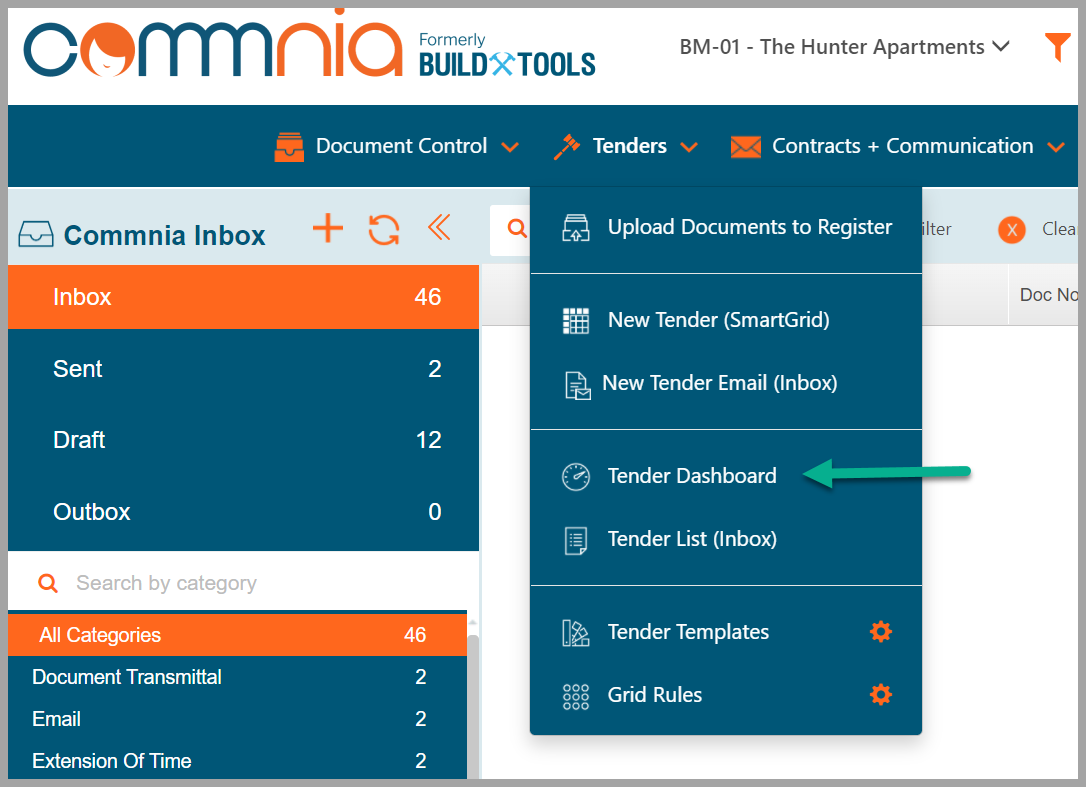 From the Tender Dashboard select the trade and then click on the Add Recipient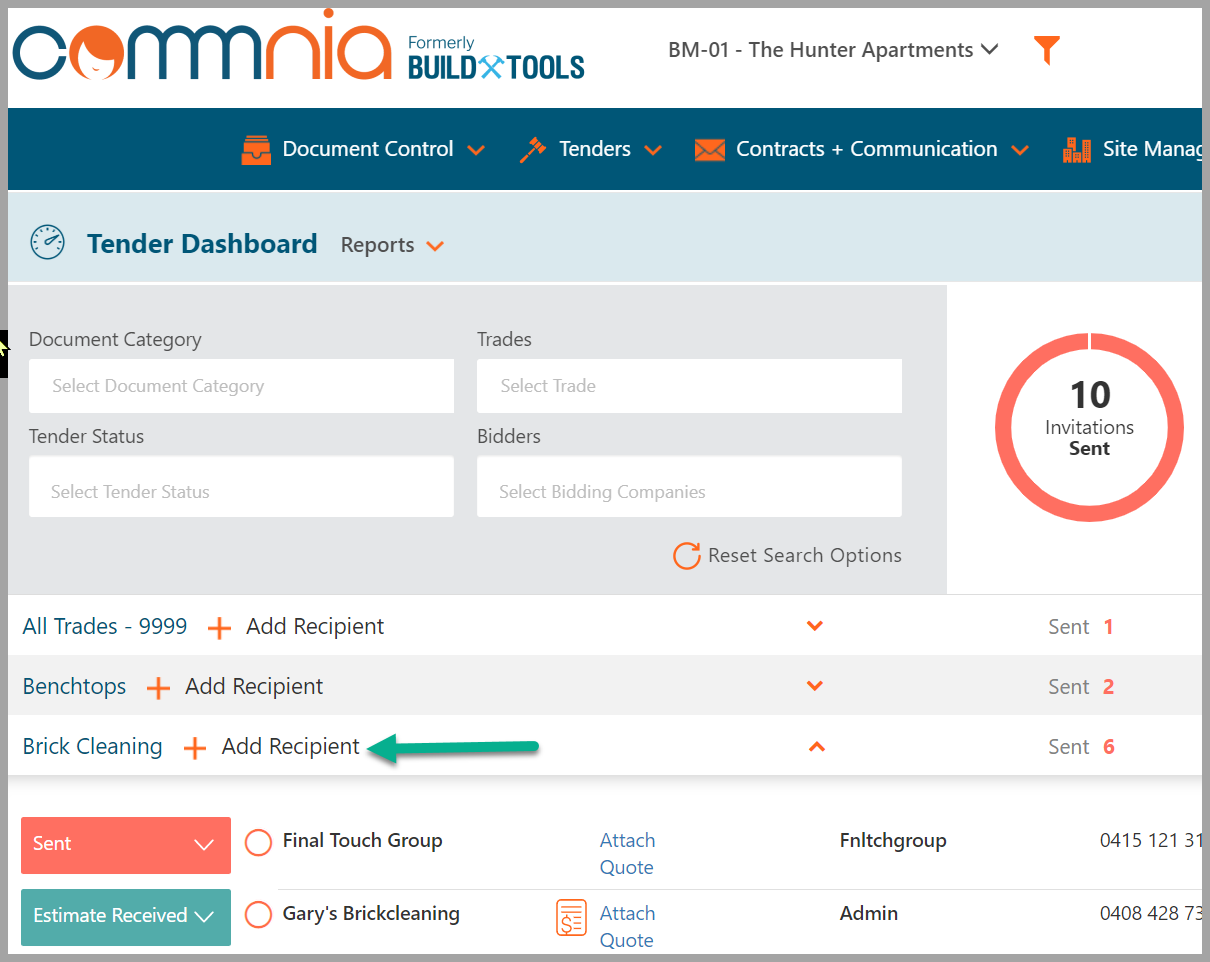 3 - Decide whether you would like to include all the documents in the tender package.
Commnia can locate all the "latest" documents sent to the selected Trade and include them in your Tender/Addendum.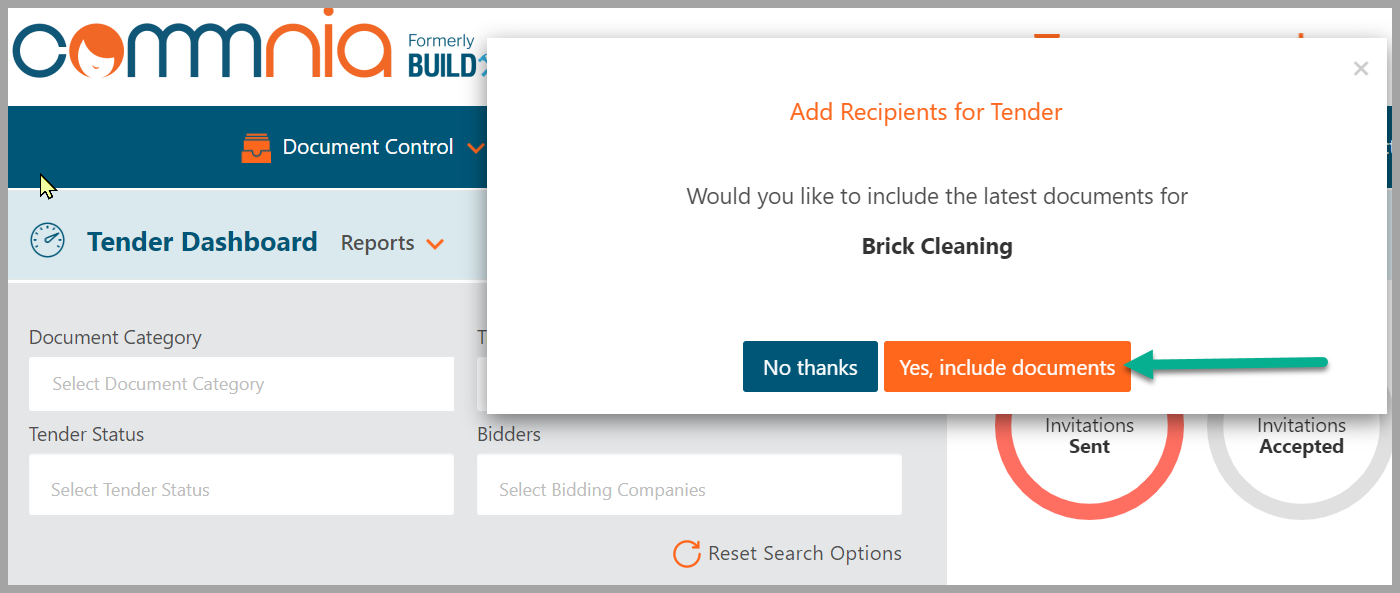 3. Complete the Tender or Tender Addendum email

A new email will appear with the list of documents (if you selected the option to include the documents).
The trade is preselected, however, the category can be changed to any "For Quote" email.

Related Articles

New Tender Packages | SmartGrid | Grid Rules | Tender Automation

Create your tender packages and distribute directly to your project trade groups using the Commnia SmartGrid functionality with automated distribution rules. The Grid rules are a set of instruction that works with Commnia's SmartGrid to help you ...

New Tender | SmartGrid | Manual

Commnia Tender Grid has been designed to create your tender packages and distribute them directly to your project trade groups. Request For Tender is created with ease utilising document templates, automated distribution rules & tender management. 1. ...

Subcontractor - Guide to Tender and Quote

Commnia will automatically send a Formatted Email. This includes an attached pdf Letter, Project Details, File Download Link, Intention to Quote Yes/No and a Link to Upload Quotation. Please see below an example of Tender Request Email. 1. Intention ...

Award Tender

Commnia's Tender Dashboard tool allows you to efficiently award a Tender and notify bidders in simple steps. From the main menu, navigate to the Tenders menu, and click on the Tender Dashboard. You will be presented with your project tender ...

Create Simple Tender Addendum Email in Commnia

Commnia Inbox allows users to create Tender Addendums with its Email functionality utilising document templates and complete traceability. A tender addendum email category should be marked with For Quote in the control panel as it will be ...