New Tender | SmartGrid | Manual
Commnia Tender Grid has been designed to create your tender packages and distribute them directly to your project trade groups.
Request For Tender is created with ease utilising document templates, automated distribution rules & tender management.
1. Navigate to Tender Grid
From the main menu, click on Tenders and from the dropdown menu select New Tender (SmartGrid).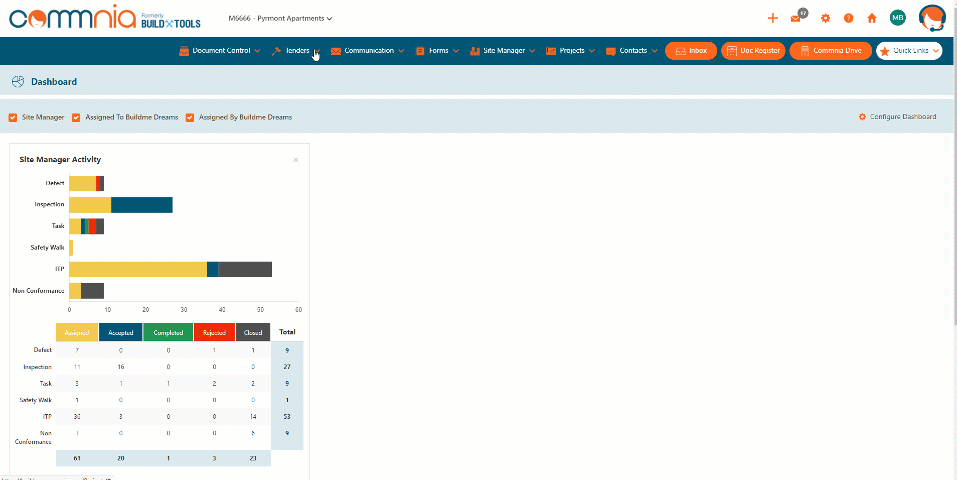 2. Attach Files via Document Register
Click on the documents button to open up the document register.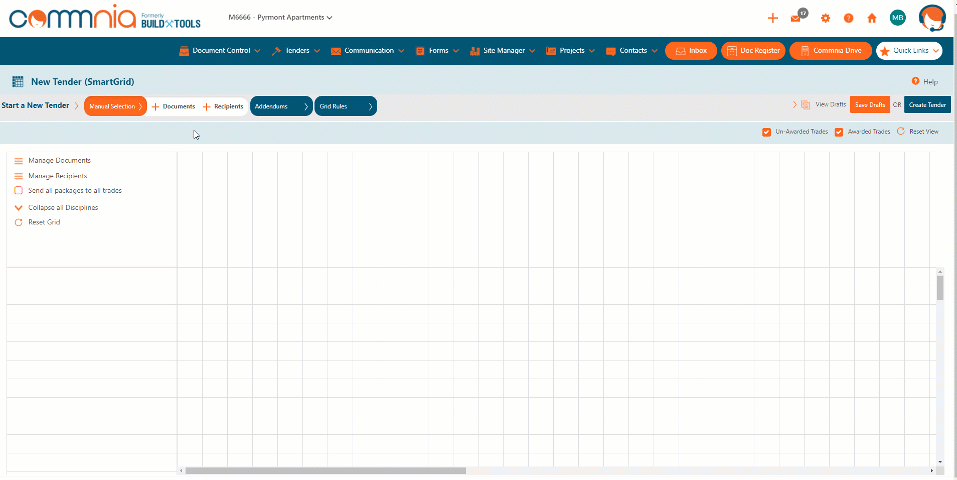 As a default, only current documents are displayed in the list, click on Pending to see all documents.

You can filter via

Advanced Search Options

including; Discipline, Document Type and Status.

You can either

Select

each document

Individually

or click on

All

to select all documents on the page.

Click on

Attach

to return to the tender grid with your selected documents.









3. Attach Files via Commnia Drive

Click on

Add from

Commnia Drive

to open the Commnia Drive folders.

You can filter folders by

Job

or by

Search Files/Folders

function.

Select the relevant folder(s) you want to include in your Tender Grid by clicking on each of the checkboxes, and clicking attach.

If you only need certain files within a folder click on each folder to view the contents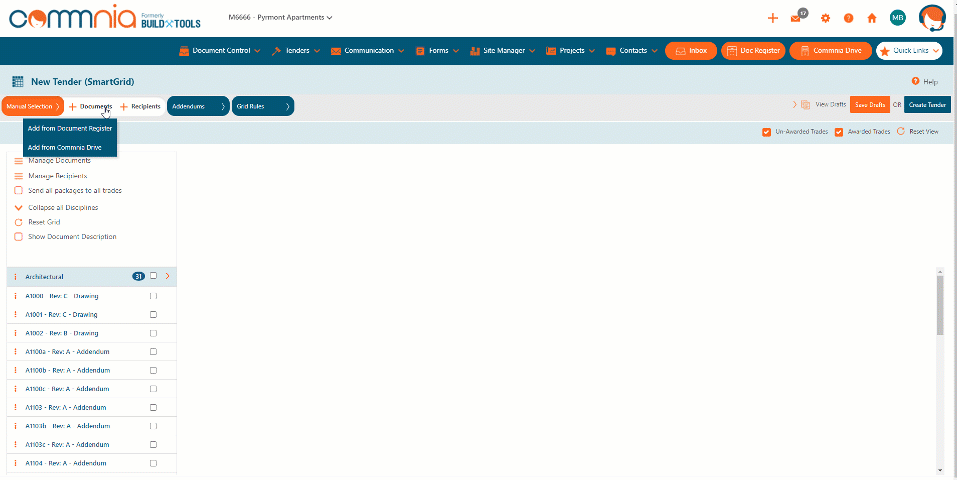 4. Add Trade Groups to Tender Request

The list of trades will default to any trades that are already associated with this current project.

You can bring up your trade groups from a

previous project

by selecting from the

Job

drop-down list or view

Global Trade Groups

by changing the

Job

field to

All

You can

Individually select the Trade Groups

you want to include by clicking on the relative checkbox. Alternatively, you can click on

All | None

to select or deselect all trade groups on that page.

Click on

Select

to include them in the Tender Grid.



The number above each trade group tells you how many of your contacts belong to that group.

By clicking on this number, it will display a list of those contacts and the ability to

Add/Remove

any missing trade contacts.

To

Add

Select the

User/Groups

to include by clicking on each checkbox, and then click on Select.

To

Remove from the package

click on the

X

. You can also delete the contacts from Project by clicking on the trash icon.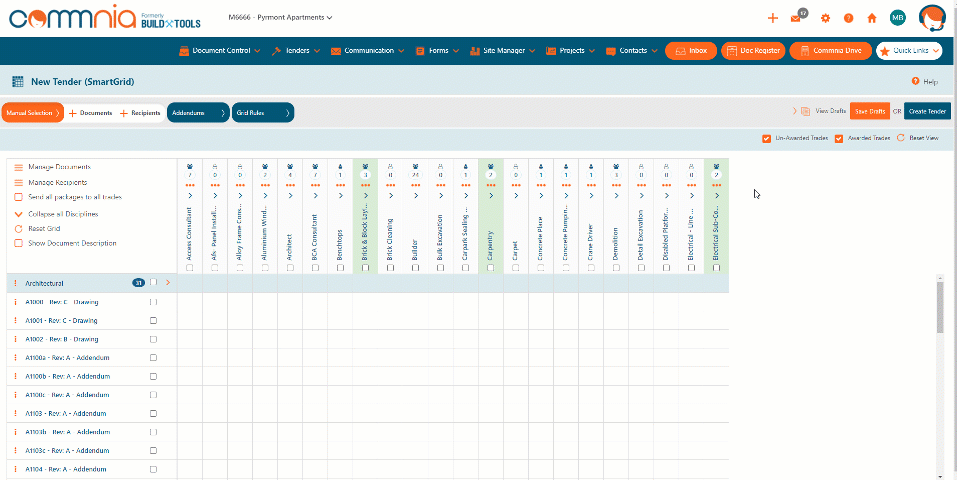 5. Prepare your Tender Grid
Now you're ready to start allocating relevant documents to each trade group.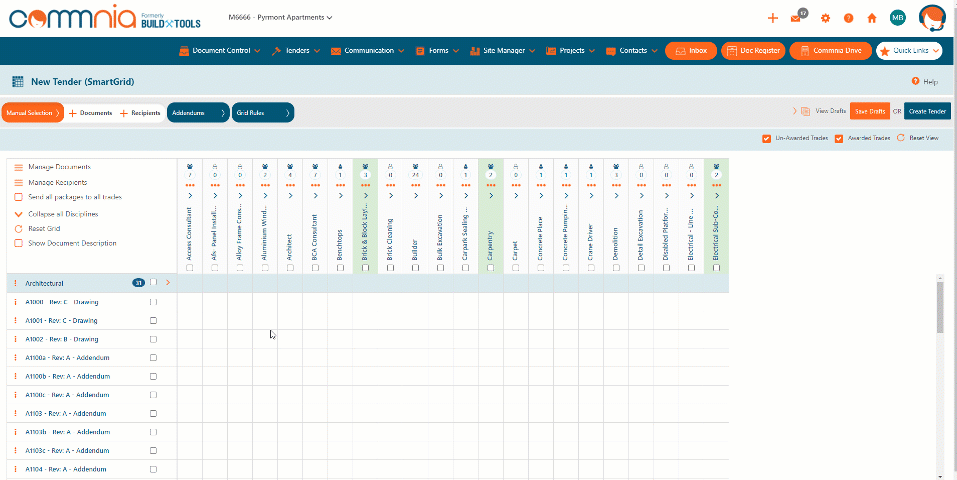 You can also assign

documents manually with several options as per below

;



All Documents to a Single Trade/User Group.

e.g. Here we have assigned all documents to the Access Consultant trade by clicking on the checkbox located under the trade name.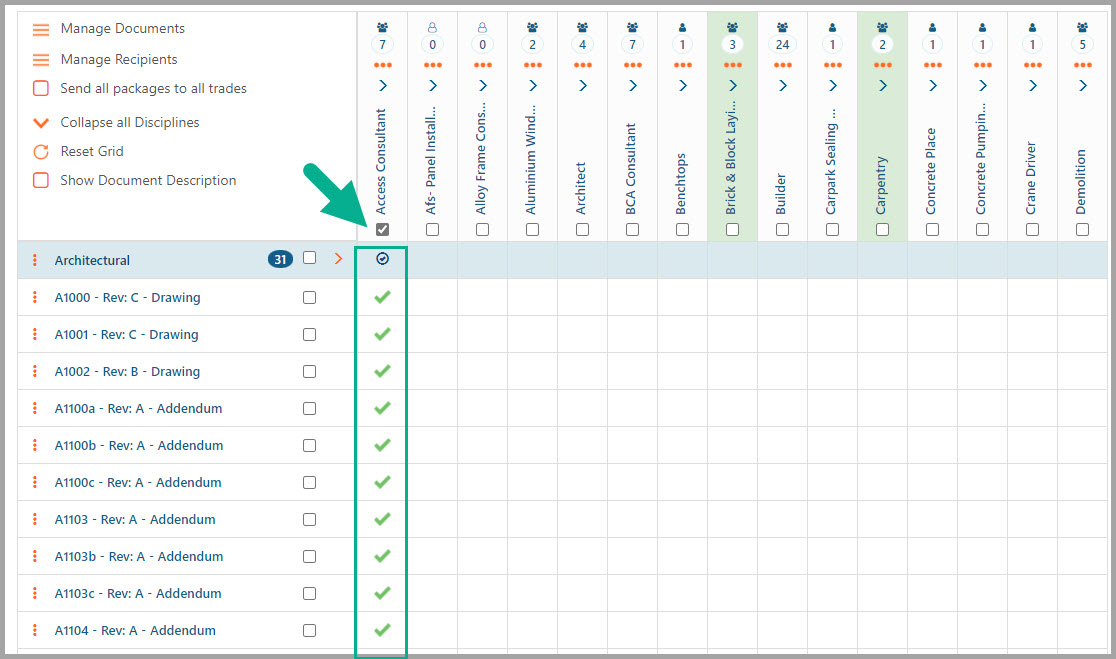 You can assign

One Document to All Trade Groups

. e.g. assigned document A1002- Rev: B - Drawing to all trade groups.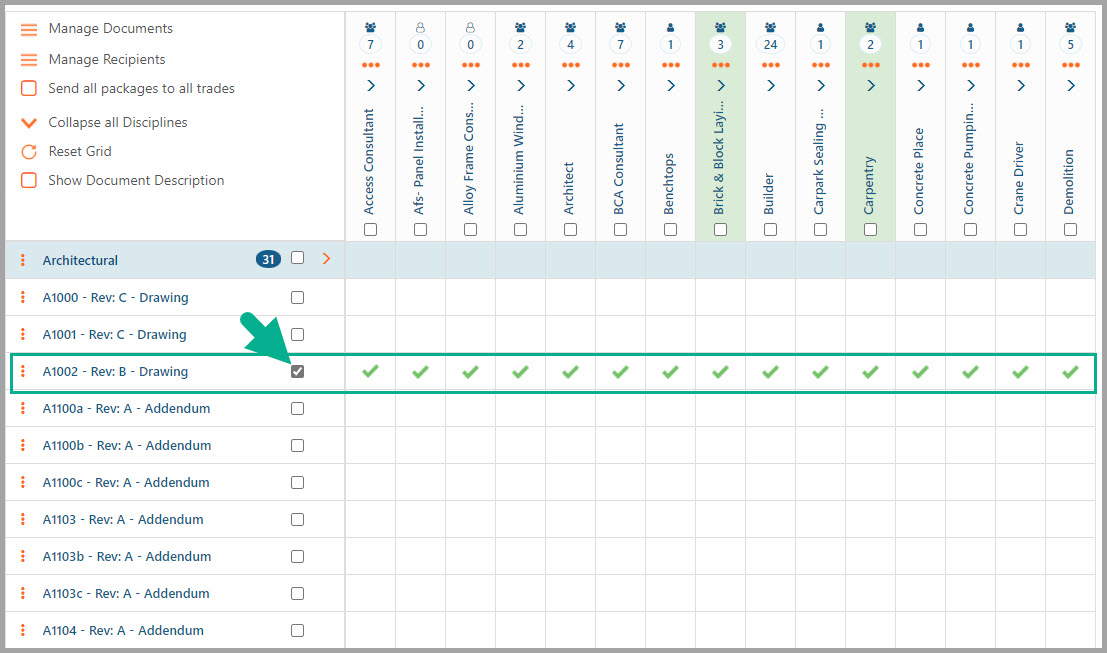 You can add

All Documents from a Single Discipline to All Trades

. For example below we have assigned all Architectural documents to All Trades by clicking on the Architectural Checkbox.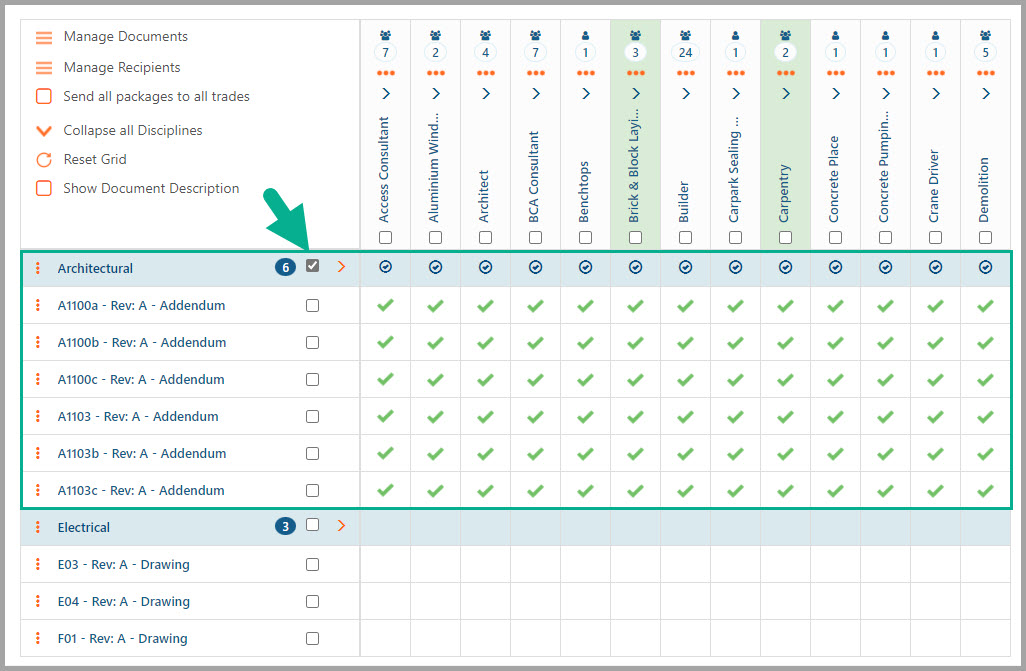 Assign Individual Documents to Individual Trades

. e.g. individually assigning two Structural documents to the carpenter trade and one document to the Benchtops group by clicking in line with the trade and document panel box.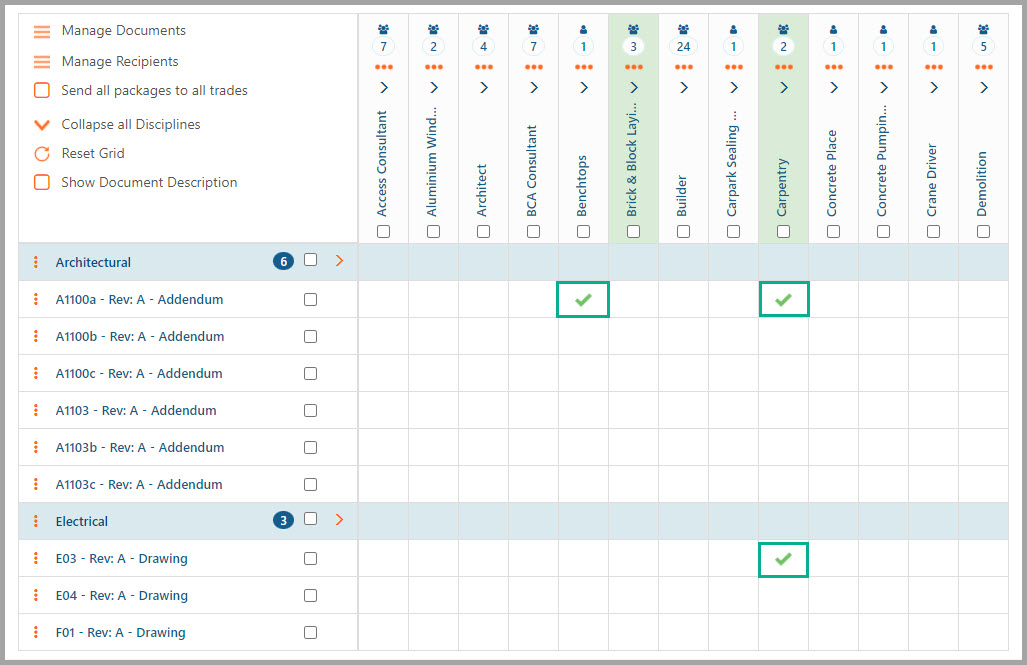 6. Create a Tender Package
Once you're happy with your tender grid, click on Create Tender to prepare your tender packages.


Each Tender Package is grouped by the trade group. Click on the trade group name to expand the tender details.
The Subject Name will be defaulted but can be changed by the user directly from this field.
The Tender Closing Date will default based on the project configuration held within the projected register. You can override this date and click Copy to all Tenders will update all tender packages with your new tender closing date.
You can Add Users by clicking on the + recipients button. This will open the project contact list, click on the checkbox next to each contact you would like to add and click Add users. You can Remove a User by clicking on the X next to their name.
You can Remove Document(s) by clicking on the relative x. To add more documents click on Add More Documents to open the document register. Select the documents you would like to add and click on attach.
Enter your Email Message into the Scope/Further Documentation field. This field is Html which means you can copy and paste directly from emails, web pages and images. There is an option to copy the message to all the Tenders.
Alternatively, select from a list of View Custom Templates for Description.
You can Send each Tender Request Email by Trade individually. You have the option to either save the tender as a Draft allowing you or a colleague to review, or Send the tender package privately. The send privately function means that your recipients won't see each other and know who has been invited to tender.
You can also Save All as Draft and Send All Tender Request Emails at the same time



You will see a message that says your tender has been submitted successfully and emails have been sent to your trade groups.
7. Tender Package Email
Commnia will automatically send a Formatted Email with your tender package to the Trade Groups. This includes an attached pdf Letter, Project Details, File Download Link, Intention to Quote Yes/No and a Link to Upload their Quotation.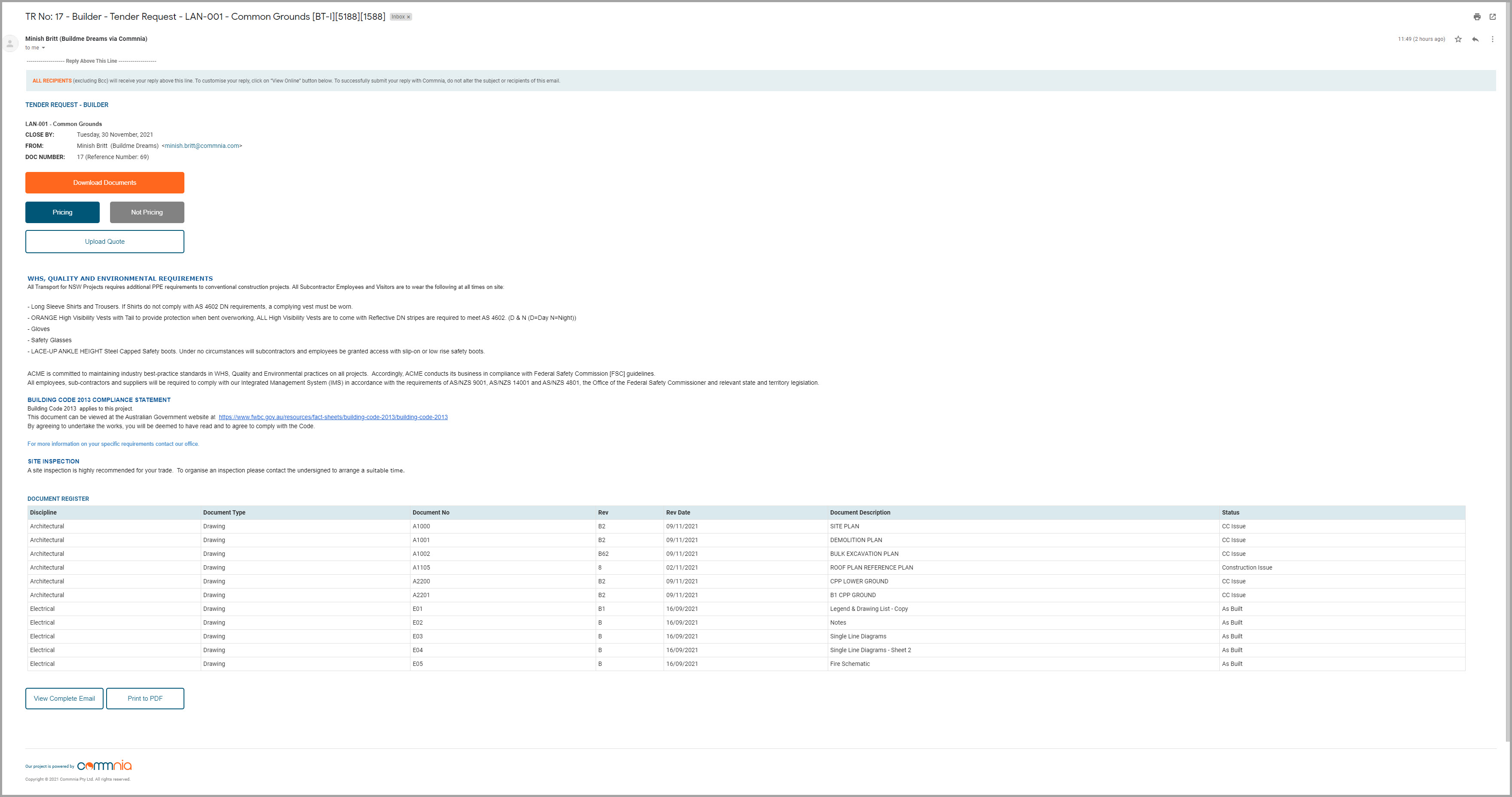 Responses are captured in real-time to the Tender Dashboard where you can advise your sub-contractors of their successful/unsuccessful tender. To learn about Tender Dashboard click here.
Related Articles

New Tender Packages | SmartGrid | Grid Rules | Tender Automation

Create your tender packages and distribute directly to your project trade groups using the Commnia SmartGrid functionality with automated distribution rules. The Grid rules are a set of instruction that works with Commnia's SmartGrid to help you ...

Create Simple Tender Addendum Email in Commnia

Commnia Inbox allows users to create Tender Addendums with its Email functionality utilising document templates and complete traceability. A tender addendum email category should be marked with For Quote in the control panel as it will be ...

How to create Tender Request, Tender Addendum and Quotation Request Email Template

Commnia Inbox by default has a Tender Request module built into the system and is used for Tendering and Bidding, however, depending on the type of project or the stage of your project you may want to create an additional Tender Template for example; ...

Create Simple Tender Email in Commnia

Commnia Inbox allows users to create a Tender Package with its Email functionality utilising document templates and complete traceability. 1. Navigate to New Tender Email From the main menu, click on Tenders and from the dropdown menu select New ...

Tender Dashboard

​ Commnia's Tender Dashboard allows you to view a summary of where your sub-contractors are up to with tenders you have sent. The dashboard will show if subcontractors have viewed, accepted or declined the Tender. 1. Navigate to Tender Dashboard ...