Attach Documents to Email
Documents can be attached to the email directly from Commnia Drive, the document register, from your local device or drag and drop files with no restriction on file size.
1. Attach Files via Commnia Drive
Click on

Commnia Drive

to open the Commnia Drive folders.

You can filter folders by

Job

or by

Search Files/Folders

function.

Select the relevant folder to view the contents




Select the relevant files you want to include in your email by clicking on each of the checkboxes, and clicking attach.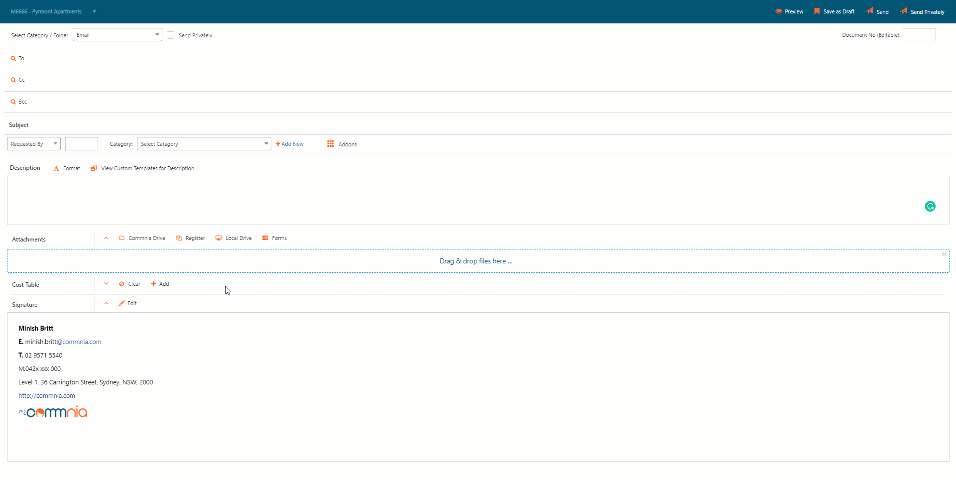 2. Attach Files via Document Register
Click on

Register

to open the document register.

Advanced search options are automatically displayed when you first open the page. You are able to show/hide this area by clicking anywhere on the

Advanced Search Options

label.

As a default, only current documents are displayed in the list.

You can filter via

Advanced Search Options

including; Discipline, Document Type and Status.

Click on each files checkbox to

Select

, and click

Attach t

o add to your email.



3. Attach via Local Device
Documents can be added from your local device by dragging and dropping or clicking on the Local Drive icon. The file open dialogue box will appear. Select the relevant files, and click Open.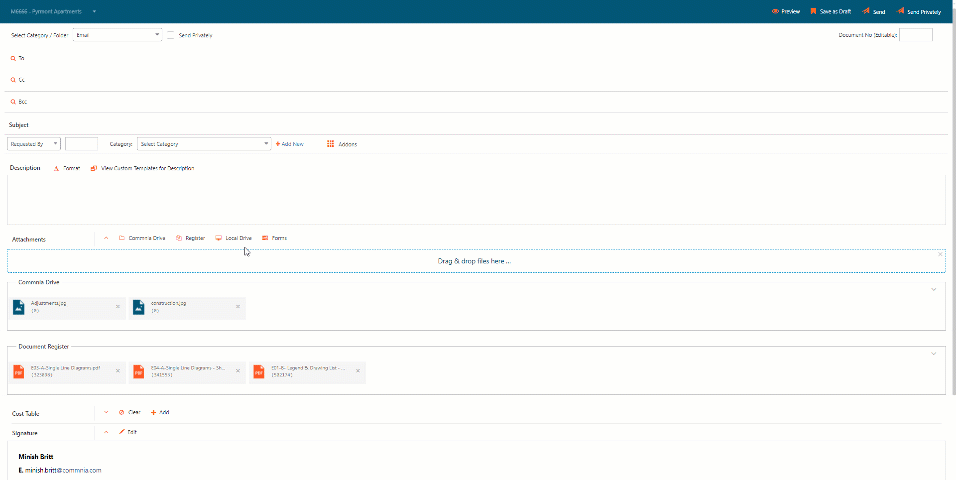 Related Articles

Inbox | Create New Email

Inbox shows all emails received and sent by any contact from your company. Creating an email in Commnia means that any responses made outside of Commnia will be automatically saved against the original message; providing you and the project team ...

Commnia Inbox | Overview

Commnia Inbox has been designed to be intuitive and simple to navigate. Inspired by Outlook, the new way to manage all your company and project-related communication. 1. Overview All communications are stored within a single repository giving you ...

How to create Purchase Orders in Commnia Inbox

At Commnia, we drive communication as one of the pillars of success in any project. Purchase orders are created through the Commnia Inbox as an email message with a cost table with a status for each cost item. Some of the benefits of creating ...

New Transmittal | Email

Commnia Transmittals from the Inbox is one of two methods used to send documents. Click here to learn more about our second method, The Transmittal Grid. 1. Navigate to New Transmittal Email Login to your Commnia account and select your project. From ...

How to Reply to Commnia Email from Outlook Inbox or Other Mail Provider

A user does not need to log in to Commnia to reply to a Commnia email that has come into their Outlook Inbox or any other mail provider Inbox. This also applies to those who are not Commnia Users but receive an email sent from Commnia Inbox. When you ...