Attach Documents to Email
Documents can be attached to the email directly from Commnia Drive, the document register, from your local device or drag and drop files with no restriction on file size.

1. Attach Files via Commnia Drive
Click on

Commnia Drive

to open the Commnia Drive folders.

You can filter folders by

Job

or by

Search Files/Folders

function.

Select the relevant folder to view the contents




Select the relevant files you want to include in your email by clicking on each of the checkboxes, and clicking attach.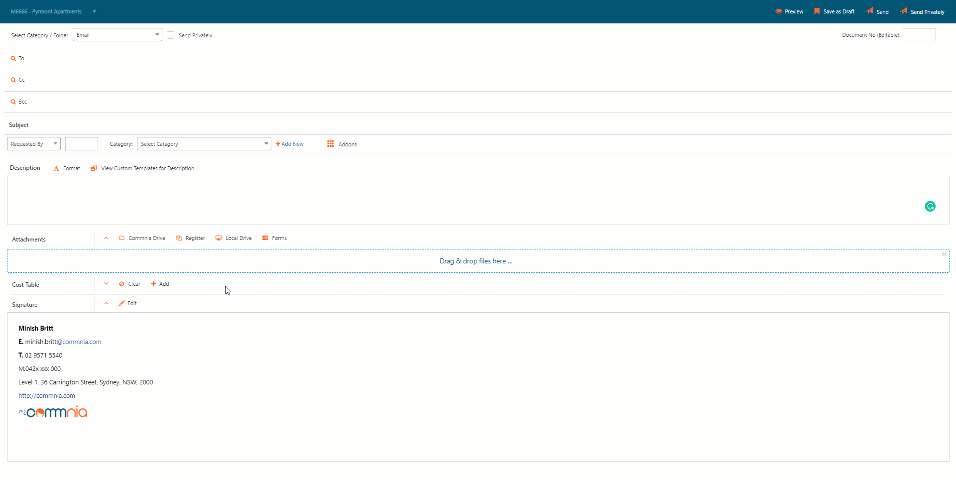 2. Attach Files via Document Register
Click on

Register

to open the document register.

As a default, only the latest accepted documents are displayed in the list.



You can use the search bar including; Document Number/ Description, Document Types, Discipline and Upload Date.

You can access the advanced filter via

Document Register Filter.

Click on each files checkbox to s

elect

, and click Attach to add to your email.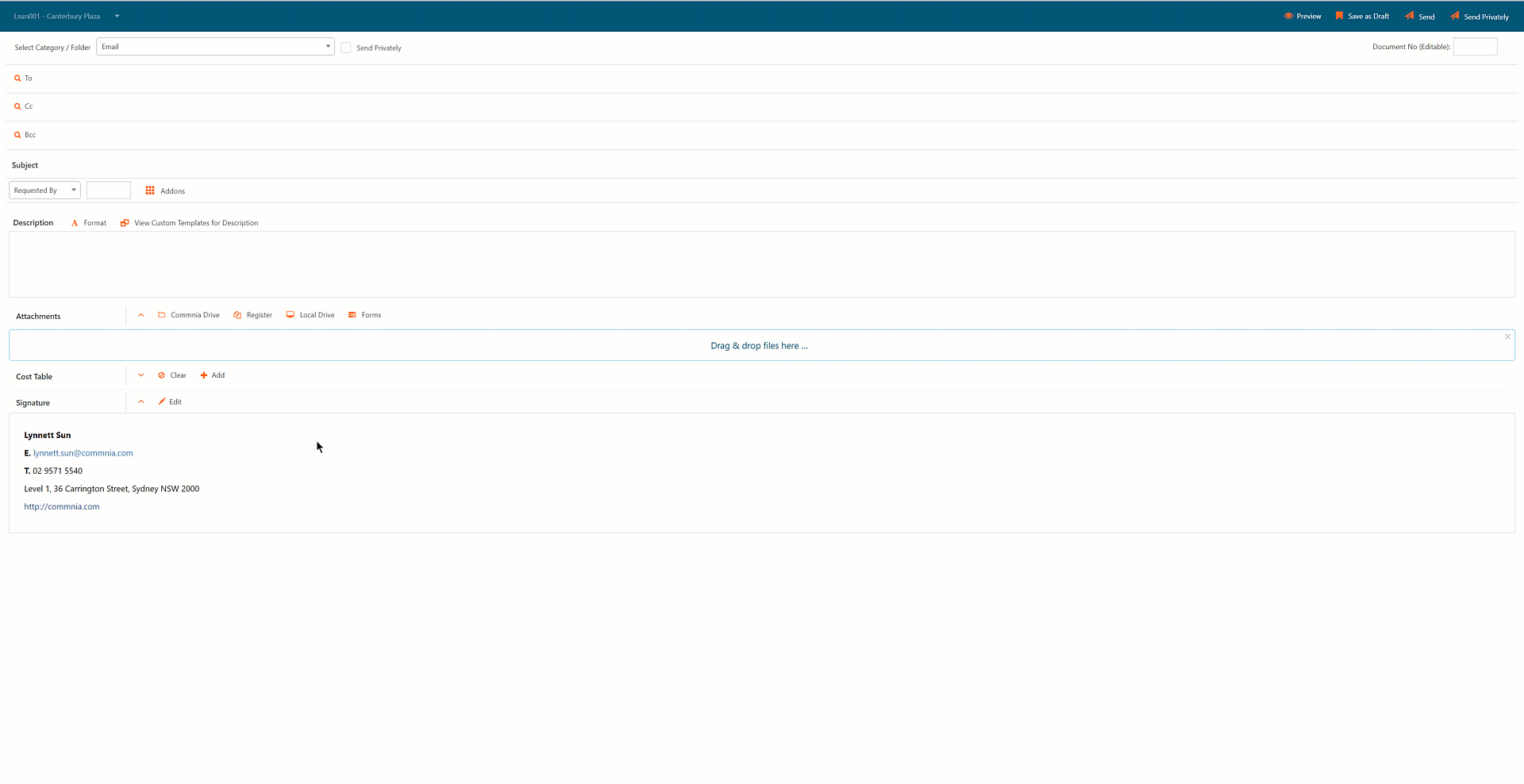 3. Attach via Local Device
Documents can be added from your local device by dragging and dropping or clicking on the Local Drive icon. The file open dialogue box will appear. Select the relevant files, and click Open.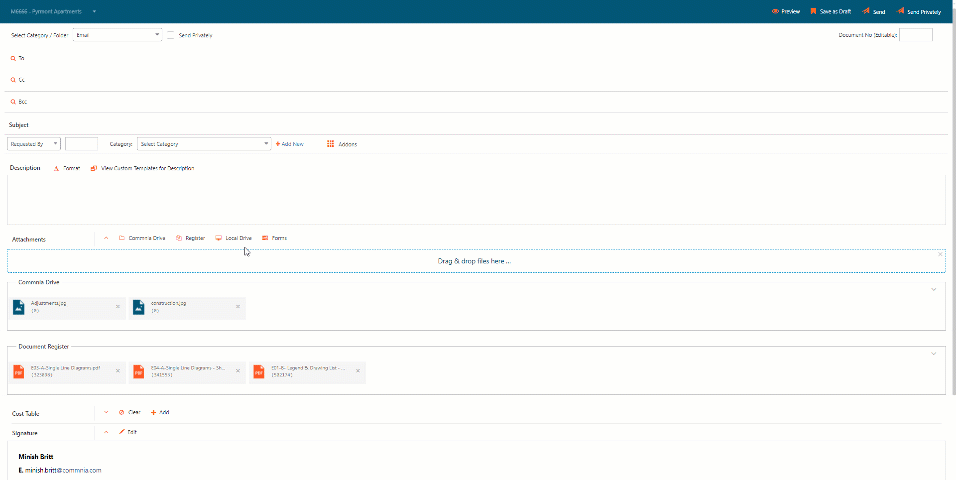 4. Attaching Forms

Click Forms


Select your desired form



Click Use Selected Form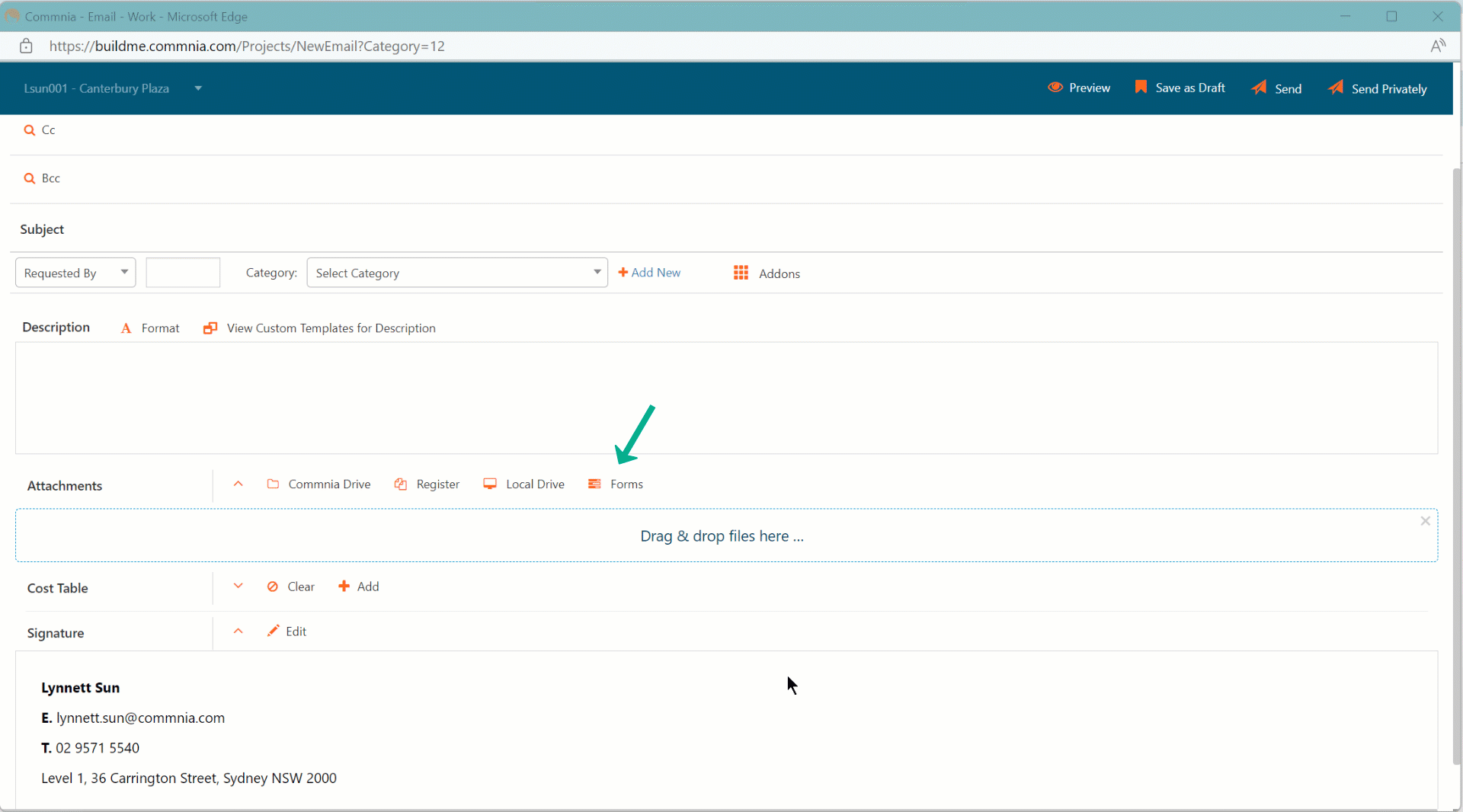 Related Articles

Attaching Commnia Drive Documents to Email

Consultants are only able to access a folder in the Commnia Drive if it has been shared to them. From the main menu, select "+" button and click on the desired email category. Under Attachments, select Commnia Drive. Select the folder you wish to ...

Markup and Send Documents via Local Drive

Managing your drawings and documents using Commnia Mark Up Tool offers many efficiencies and streamlines the mark-up process, changes can be made by authorised persons, no matter where they are, on-site or off-site. They can distribute updated ...

Commnia Inbox

The Commnia Inbox is centralised into one source of truth increasing productivity, removing duplication and increasing compliance Commnia's Inbox has been designed specifically for the construction industry, taking you further than any regular mail ...

Inbox | Create New Email

Inbox shows all emails received and sent by any contact from your company. Creating an email in Commnia means that any responses made outside of Commnia will be automatically saved against the original message; providing you and the project team ...

Commnia Inbox | Overview

Commnia Inbox has been designed to be intuitive and simple to navigate. Inspired by Outlook, the new way to manage all your company and project-related communication. 1. Overview All communications are stored within a single repository giving you ...