New Transmittal (Email) - For External Users
This article provides step by step instructions on how to create and send documents with a Transmittal using the Commnia Inbox. We recommend you add documents from the Document Register; however, you can also add your documents from the Commnia Drive and local disk.
1. Accessing the New Transmittal Email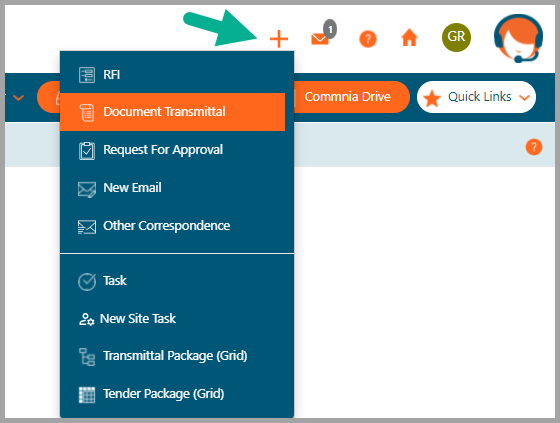 2. Select your recipients

If you don't want the "To" recipients to see each other, mark the document as private. You can add your colleagues to "CC" or "BCC"
To select your recipients, start typing in the recipient field.
If the recipient is not added to the project contact list, you may navigate to the Global Contact List, or to another contact group.
To access your contact lists click on the "To", "Cc" or "Bcc" button.

3. Add your description

4. Attach your document to the transmittal
With Commnia, you may attach documents from three different sources.


Document Register

Commnia Drive

Disk (drag and drop)



5. Setup your signature
If you have not setup your signature in Commnia, you can do so now. Here is an article on how to set up your Commnia signature by copying your MS Outlook signature.
6. Send your Transmittal
Congratulation, you're nearly there! Hit the "Send" button to complete the Transmittal.
Related Articles

New Transmittal | Email

Commnia Transmittals from the Inbox is one of two methods used to send documents. Click here to learn more about our second method, The Transmittal Grid. 1. Navigate to New Transmittal Email Login to your Commnia account and select your project. From ...

Inbox | Create New Email

Inbox shows all emails received and sent by any contact from your company. Creating an email in Commnia means that any responses made outside of Commnia will be automatically saved against the original message; providing you and the project team ...

How to Use Commnia Email via Outlook Plugin

You can create a new Commnia Email, save Outlook email into Commnia and Export Emails for archiving purposes without logging into Commnia via Outlook plugin. 1. Verify Your Account If you are using the Commnia email feature via Outlook the first time ...

How to send drawings for markup with multiple users

Commnia Inbox facilitates communication and a collaborative workspace for multiple users on a project to discuss and track design changes as they are added. Builders, Subcontractors, Consultants and Clients can all discuss and work on one drawing at ...

How to Reply to Commnia Email from Outlook Inbox or Other Mail Provider

A user does not need to log in to Commnia to reply to a Commnia email that has come into their Outlook Inbox or any other mail provider Inbox. This also applies to those who are not Commnia Users but receive an email sent from Commnia Inbox. When you ...