You can create a new Commnia Email, save Outlook email into Commnia and Export Emails for archiving purposes without logging into Commnia via Outlook plugin.
1. Verify Your Account

If you are using the Commnia email feature via Outlook the first time or have logged out you will need to Verify your Commnia Account.

Click on any one of the mail options from the drop-down menu.

A login screen will pop up, input your
email address and password used to login to your Commnia Account
and Save.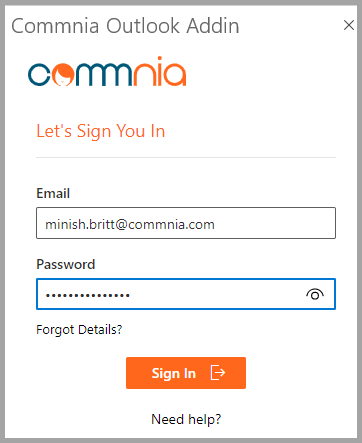 2. Create New Commnia Email

Select New Commnia Email from the drop-down menu.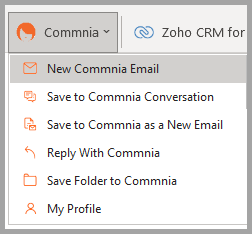 A side window will pop up. From the drop-down menu - select your project.

A
New Browser
will open with Commnia Email Template,
compose your email and send.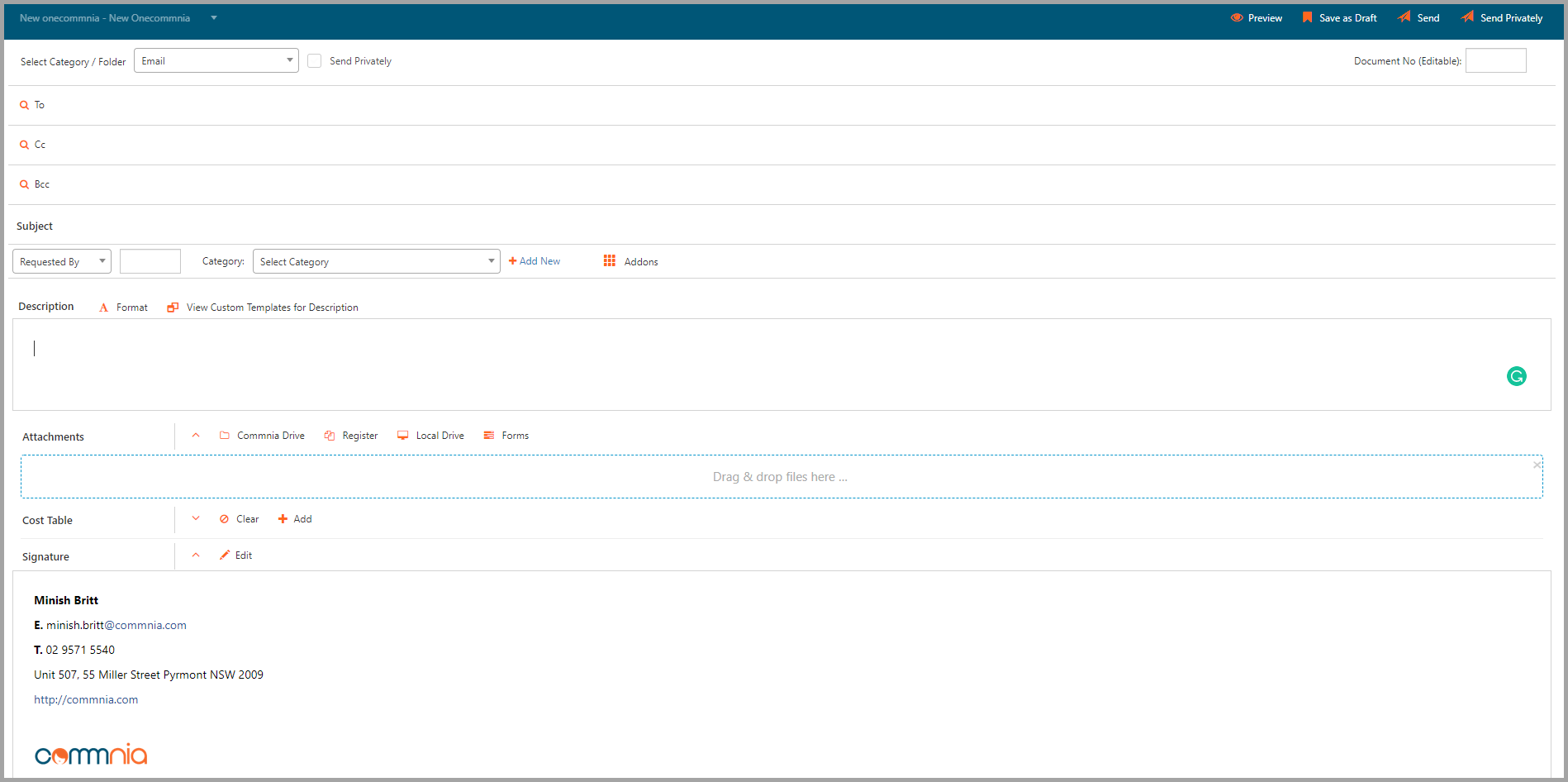 To see how to compose a Commnia Email click
here.
3. Save to Commnia | Conversation

If you have an email in Outlook and want to save it to Commnia as part of a conversation. Select Email and click
Save to Commnia Conversation
.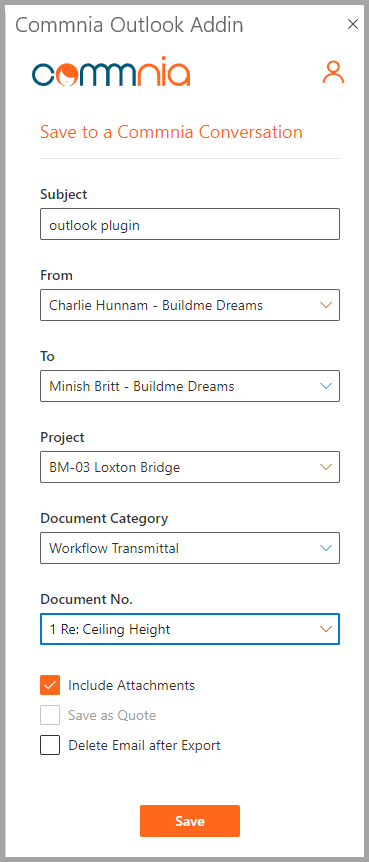 Fill in the information, select project, document category (inbox folder) and
add it to the correct conversation by selecting one of the existing email subjects from the dropdown list.
Click
Save.
You can view the Saved email in Commnia or Reply with Commnia.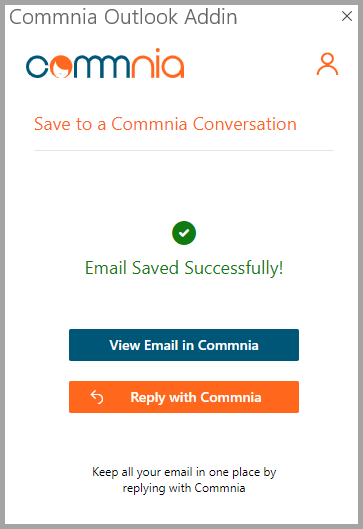 4. Save to Commnia | New Email

If you have an Email in Outlook and want to save it in Commnia as a completely new email, click on Save to Commnia as a New Email and fill in the information as prompted. You can also add an Action by Date.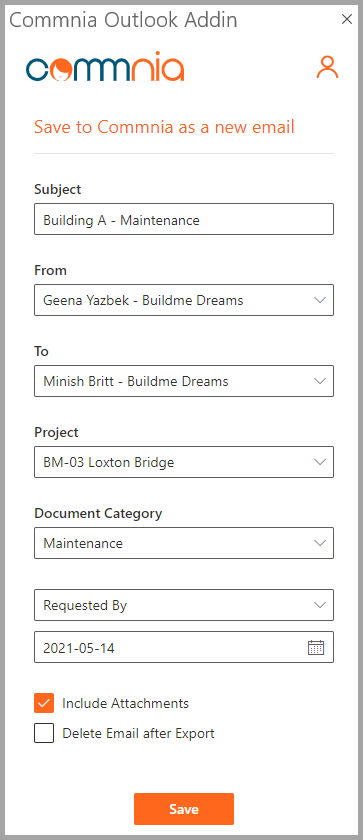 A pop-up window will appear if the sender of the email is not a part of Commnia, you will need to add them as a contact.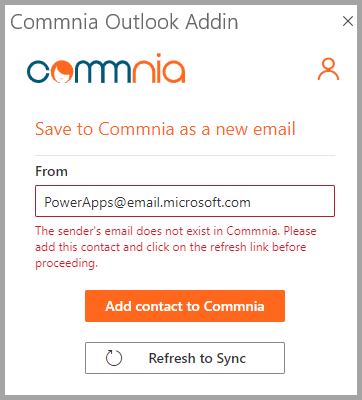 Click
here
to see how to Add Contact to Commnia.
5. Reply with Commnia

To reply with Commnia the email must already have been moved to Commnia Inbox.

Step 3 (Save to Commnia | Conversation) or Step 4 (Save to Commnia | New Email) must be completed before you are able to reply with Commnia.

After Step 3 or 4 are completed, click on Reply with Commnia, and the email will directly be opened in Commnia Inbox for you to reply with as per the below example.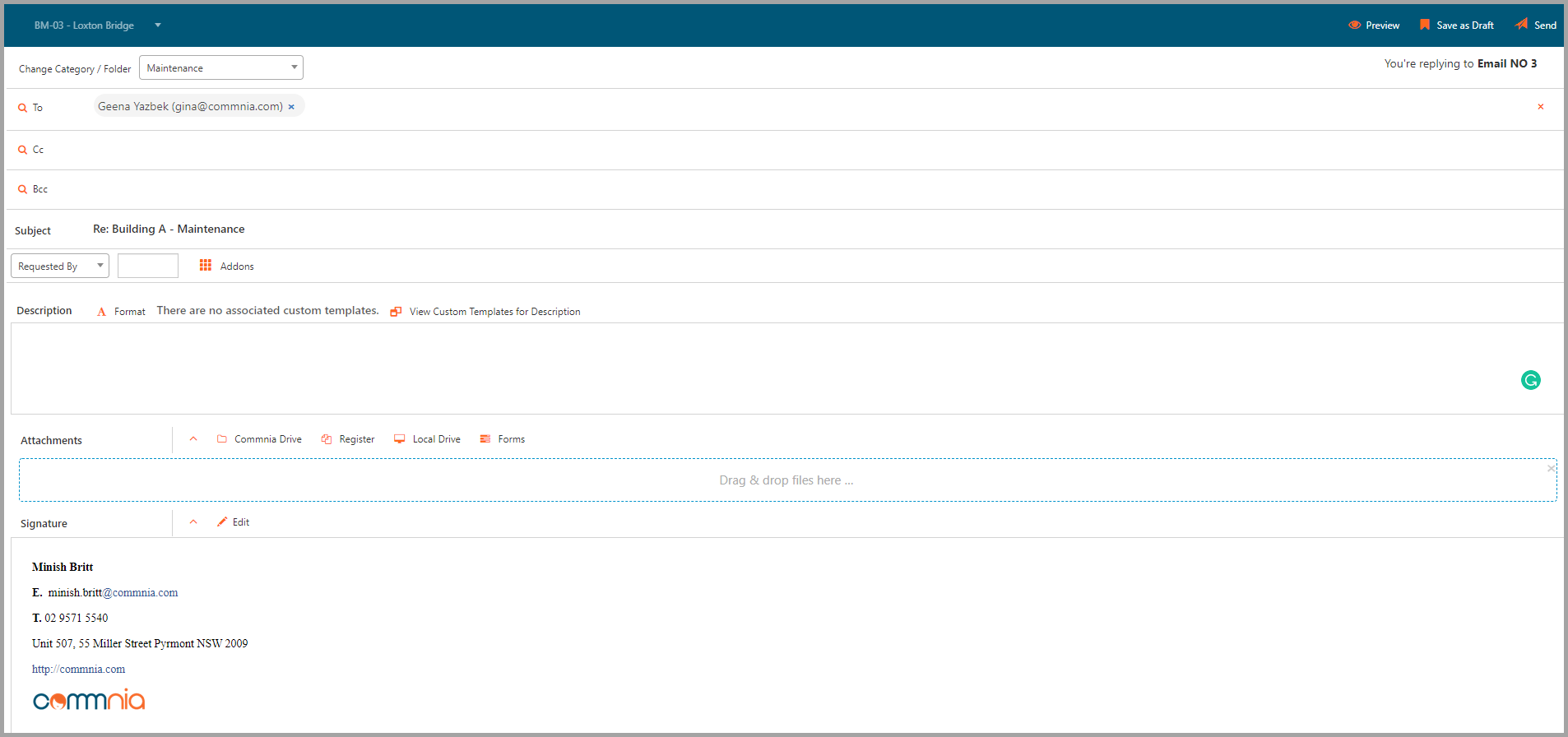 6. Save Folder to Commnia

Commnia Outlook Plugin allows you to store /archive folders and subfolders of emails on the Commnia's central database. This allows you to free space in your outlook and have all project-related emails archived in one place.

To do this, you must be in the folder you wish to export, then click Save Folder to Commnia.


Make sure the project is correct as the folder will be exported to this project, then c
lick Export.

Please note this feature is only for archiving purposes and not for further communication
Once Export is completed, you can click View Emails in Commnia. All Project Specific Imported Emails will be listed in the Outlook Import Archive Folder.


Please note archived emails cannot be deleted by users, to delete emails stored in the archive you must contact Commnia Support team.
This is to ensure no history is deleted without permission.

To see where your imported emails are located log into Commnia Account, from the main menu, search for Import
and select Imported Outlook Emails.