How to Download Selected Documents from the Document Register
Commnia's Document Register allows you to select multiple documents and download them in different formats.
1. Access Document Register
The Document Register can be opened from the following menus;
Main Menu / Document Register
Quick Links / Document Register

Document Control / Document Register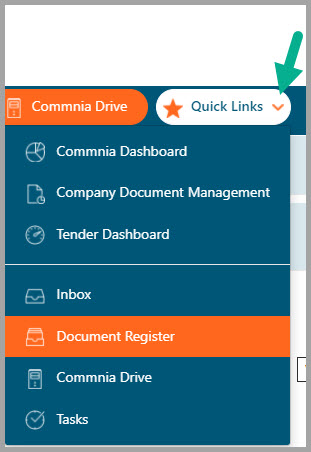 2. Select Documents


You can use the Advanced Search Options to help you find the files you need quickly.
Select the documents you would like to download, you can select individually or select all.
Click Download and select from the dropdown menu of what format you would like to download - As Original Format, Doc No - Revision - Description or Doc - Description.
The files will download in a zip file, click Open File to open the location of where the files are downloaded. You can move the files to your choice of storage location.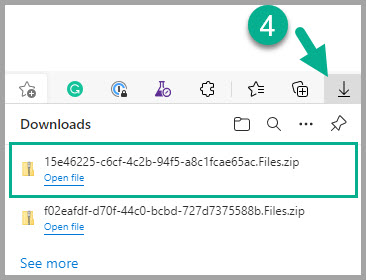 Related Articles

The Document Register Overview

Document control made easy. Commnia's' document register is the central repository of project-related documents with the added feature of document revision control; assisting you with ensuring all relevant project teams are working from the most ...

Upload Documents to Commnia Document Register

Commnia permits the upload of any file large or small including PDF docs, DWG, CAD, MS Excel spreadsheets, MS Word docs, photos etc. Documents can only be uploaded to the Document Register from Commnia's desktop system. Uploading documents to the ...

How to create and access packages

Packages has the ability to allow users to store different types of discipline drawings into one folder for easier access without having to search for each related document individually. How to Create Packages 1. Access Document Register Document ...

Edit Document Details in Document Register

Commnia's Document Register includes a mass edit function allowing you to modify document details for when documents have been uploaded and classified or labelled incorrectly. We also offer a notification email if you wish to advise users of the ...

Upload Documents to the Register with MS Excel

If you have the document descriptions in a spreadsheet, you can choose to import these directly into Commnia Document Register. 1. Excel Template Link You'll need to download the spreadsheet template (available here). 2. Download Template via ...