Commnia allows speeding up the process of invoicing and payment by utilising a cost table feature via email allowing you to add any associated cost with a Project.
You can apply any number of cost resources to the project like capital expenditure on equipment, progress claims, costs associated with site issues, variations, variable costs such as labour, material, and contracts outside of the main works.
1. Add Cost Table
In the body of your email click on Addons and select Cost Table
A dialogue box will appear.
Enter

Description, Reference (optional), Qty, Rate of each unit.

Select the

GST

option accordingly.

Select

Cost Status

from the drop-down menu.

Once Cost is entered click

Add New Item.




You can apply a percentage admin charge which will add a fee based on the value of the cost table.

Once you have entered all information into the cost table, click on

Add

to return to your email.

2. Edit Cost Table
In the body of your email click on the Edit button next to the Cost Table heading to open your previous information.
Once the Cost Table is open, click on the pen icon next to the line you want to edit, update details accordingly and click on the tick icon to apply changes.
Click on Add to return to your email.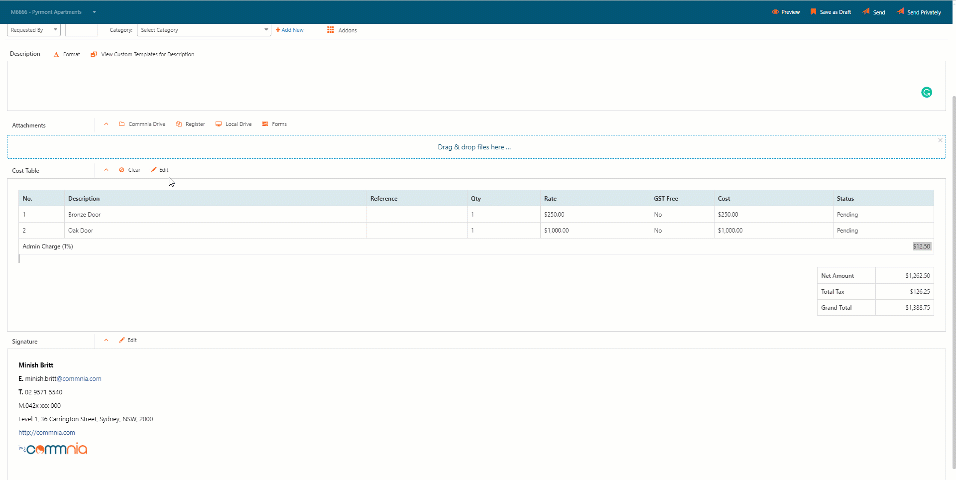 If you would like to Edit and Update the Cost Table in an existing Cost Related Correspondence click
here