How to activate your project license when you get an Expired Project Notification
You will notice an expired status when you use the project drop-down menu, when you select the project it will have a pop-up notice advising you that your license has expired and requires activation.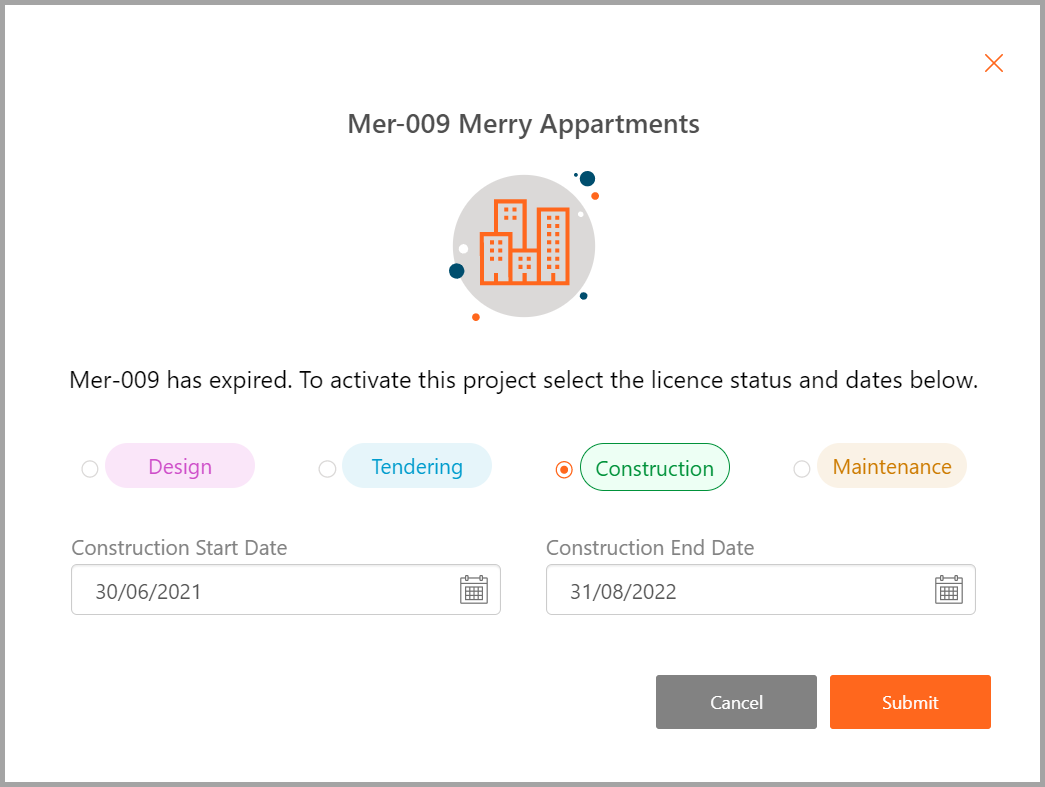 1. The stage of the project will be auto selected based on the last saved status - Design, Tendering, Construction and Maintenance.
2. Start Date will be auto filled - Enter the End Date for your project.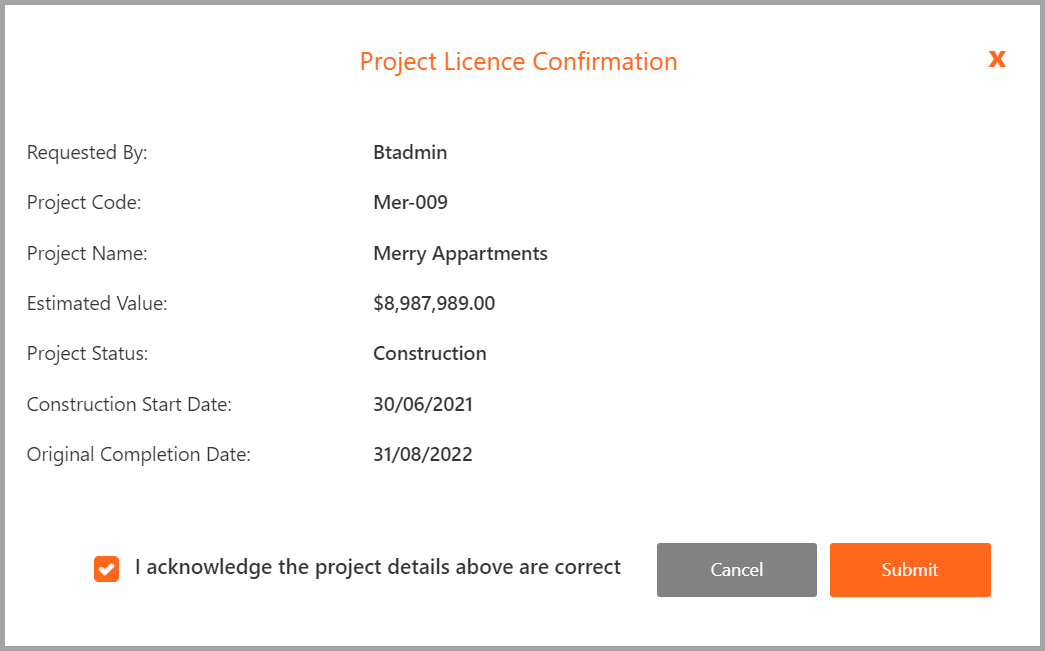 Click on the checkbox to acknowledge the project licence details are correct.
You will get a notification that project has been been successfully.

Alternatively to activate your project license via Project Register, follow the below steps;

1. Navigate to the menu bar icon and click Project Register under Operations.

2. List of your projects will be displayed, select the relevant project by clicking on the project name or code

3. Update the access end date accordingly and click Save and Update Licence.

4. To acknowledge that the project details are up to date and correct click in the checkbox for confirmation.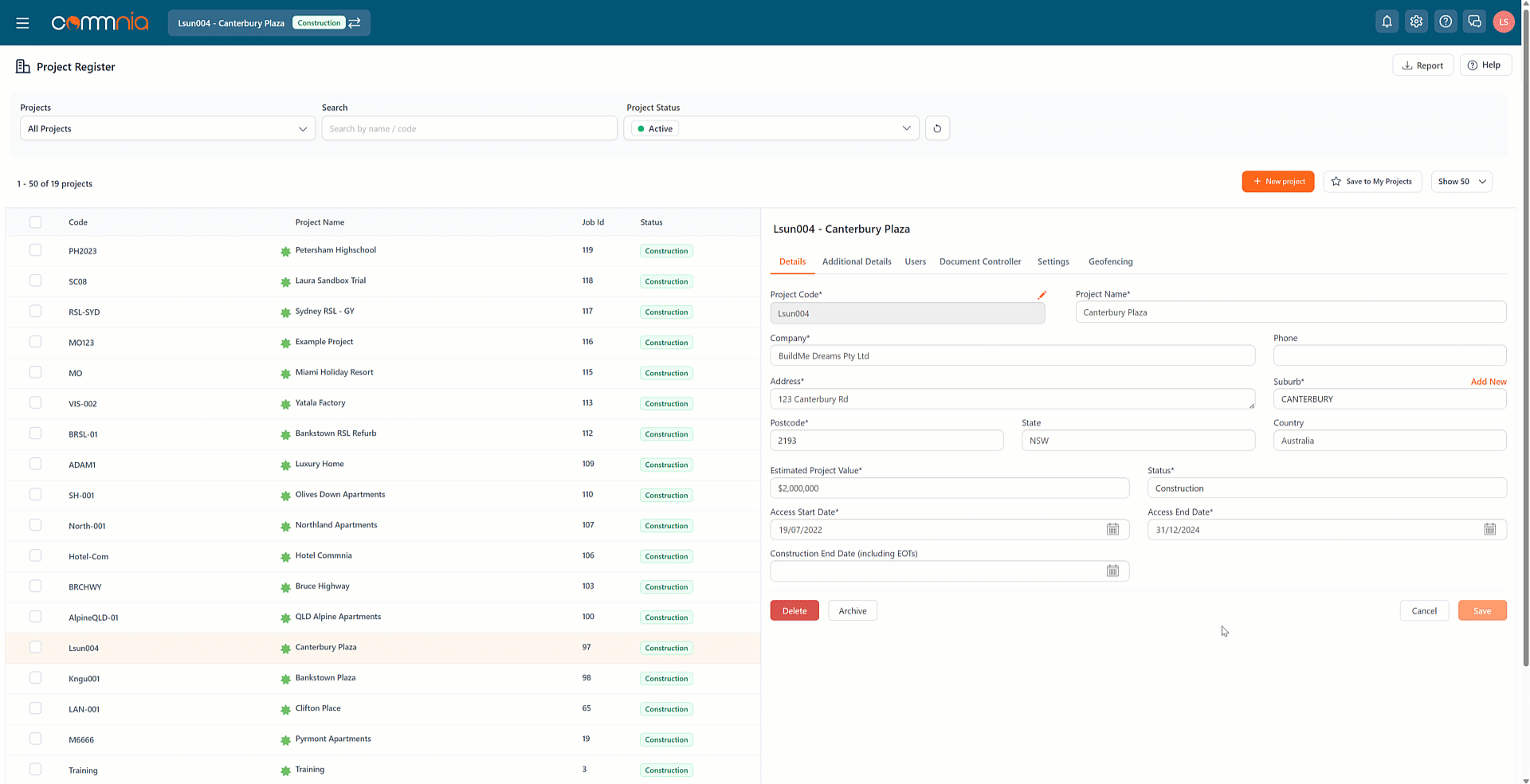 Related Articles

How to activate your project license when it's expired

If you see your project status as expired from the dropdown menu this will require you to activate the project from Project Register. You may use the search bar however when you select the project it will have a pop-up notice advising you that your ...

How to Setup and Automate Tender Closing Dates

How to setup, maintain and edit tender closing dates for your projects in Commnia. You can automate tender closing dates so that every time you create a new tender it will automatically assign the date as it's set up in your projects page. Please ...

How to Update Project Status

Construction projects go through stages from Tendering or Design to Construction then Maintenance and Defects. Commnia Project Status allows you to easily update project's stage based on the status. The project status list includes: Tendering DA ...

Tender Dashboard

Commnia's Tender Dashboard allows you to view a summary of where your sub-contractors are up to with tenders you have sent. The dashboard will show if subcontractors have viewed, accepted or declined the Tender. 1. Navigate to Tender Dashboard ...

Post Construction and Aftercare with Commnia

In Commnia, you are able to create a Project for post construction and aftercare where systems are fine-tuned. This process provides the opportunity for the project team to have access to all project files for regular and planned maintenance routine ...