Commnia Inbox has been designed to be intuitive and simple to navigate.

Inspired by Outlook, the new way to manage all your company and project-related communication.

1. Overview

All communications are stored within a single repository giving you complete transparency of your project.

Login to your Commnia account and select your project.

From the main menu, click on Quick Links and select Inbox from the dropdown list.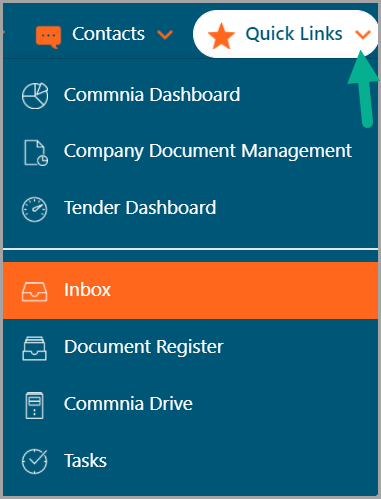 Inbox Features

Attach hundreds of documents, no matter how big, all within the one email.

Attach documents from Commnia Drive, the Document Register or from your computer files.

All recipient responses will be automatically registered in the Commnia Inbox, users do not have to log into Commnia to respond.

Category email templates ensure all required information is entered, e.g. a delay notice form will include the delay duration period and reason for delay.

Inbox Registers: In-built registers for every category to easily monitor days remaining/outstanding.

Category Changes: Send new responses based on a new category, e.g. changing an RFI to a Delay Notice. To eliminate any confusion, we make sure that you will always be able to see where these categories originated from by viewing previous responses when you select the email.

Design collaboration and documents can be discussed, approved and rejected all from Commnia Inbox. If approved, these documents can be automatically populated to your document register straight from your inbox.

Include the Contract Clause to each category relevant to the project

Include standard templates for each category to include in the document description.

2. Inbox/Sent/Draft Folders

Switch between your Inbox, Sent and Draft folders easily.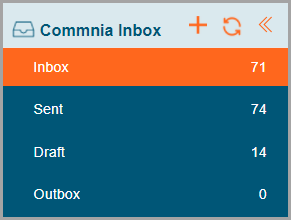 3. Viewing Emails

Click on a category to filter your Inbox results.

Every email message is classified under a document category to make it easier to find important project information.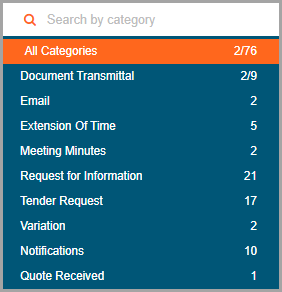 Select an email category and all emails in that folder will appear as a list on the right side of the screen.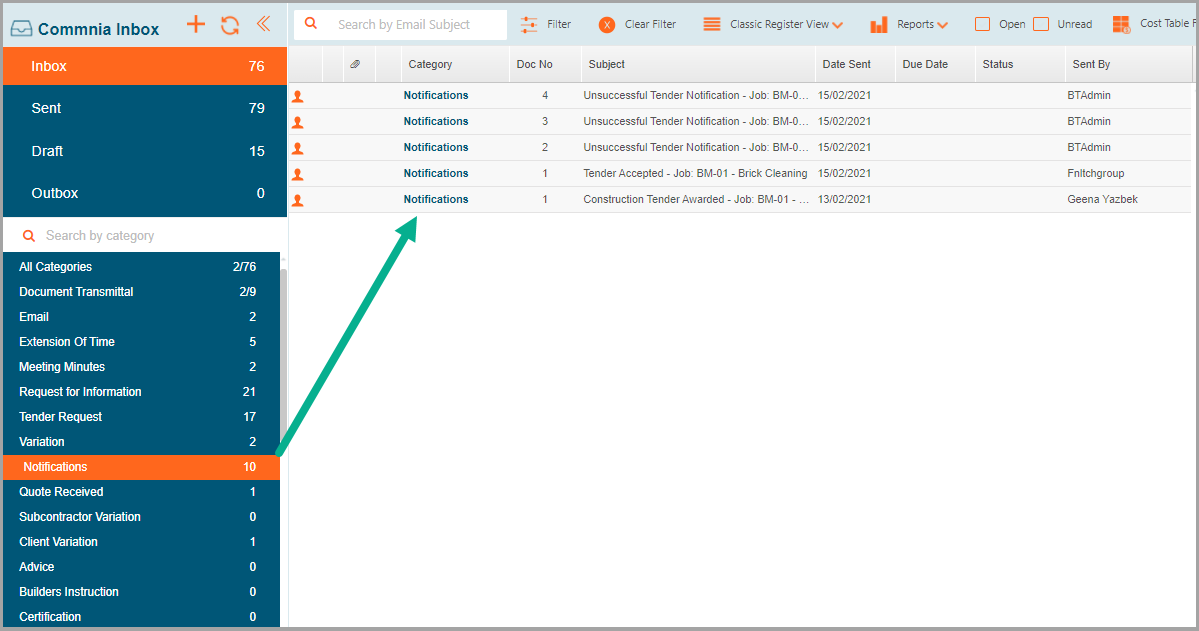 The email you select will appear with all relevant information and history.
4. Conversation Trails

There are emails referred to as a conversation trail, it is a chain of information showing that all these emails displayed here are related to each other allowing you complete transparency of the communication. Even though emails can have different categories they are still part of the same conversation.

This means that you can trace back a delay notice all the way back to the original RFI.

The following will appear. Click on any item to open the email up.


5. Responding/Forwarding

You are able to reply, reply all and forward like regular mail service, however, Commnia Inbox gives you the ability to forward emails as part of the conversation, or as a new email (thread/conversation).


To keep what you are forwarding in the same topic, click on 'Forward' and then Add to Existing Thread.

To forward as a completely new email, and start a new topic click on Forward and then Create New Thread or Conversation.

6. Other Email Options

Add Recipient gives you the option to add a user to the original email communication if they were originally left out or if they're new to the project.


There are other email options available by clicking on the Menu icon which will display the following.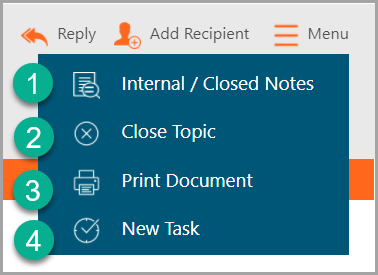 Internal/Closed Notes – You will be prompted to write a close response which will only be visible to members of your company

Close Topic - Change the status of the email to closed. Closing topics are category-specific, so if there is more than one category as part of the conversation (e.g. RFI and a Delay Notice), closing one topic will not impact another if it is from a different category

Print Email - will convert the email to a print-friendly PDF document

New Task - This will show a dialogue box where you can assign a task to a contact within the project

7. Approve/Reject Documents

When viewing an email in Commnia, you have the ability to view each document, download one or multiple documents.


Download – Click on a document to download it, click Select All or check the box of multiple documents and click Download to bulk download.
Click on the magnifying glass "View" icon to open the document viewer.


8. Filter Email

Emails can be filtered by a number of different search features.

Simple Search by Email subject, open and unread


For a more detailed search click on the filter button to open the email filter options.

Select your desired filters and click on Close.

To remove all filters, click on the Reset button and then click on Close.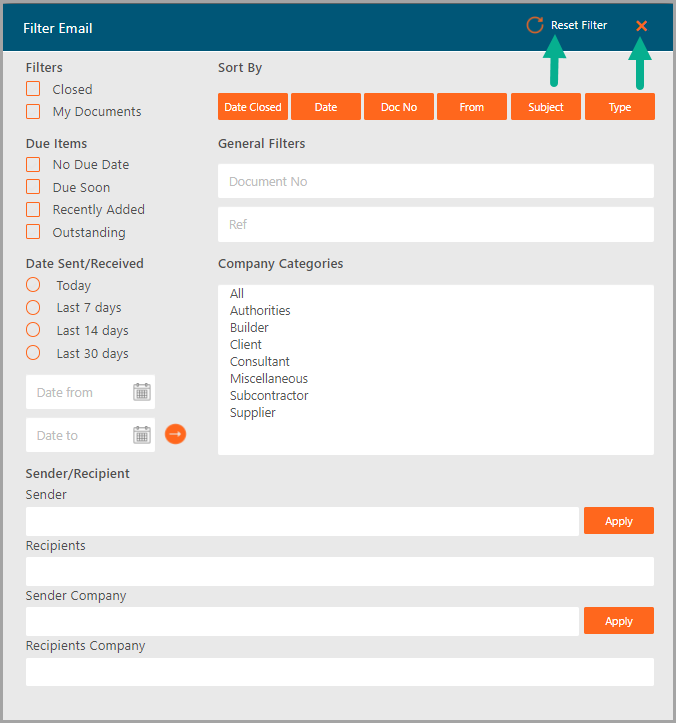 Once you have applied these filters, you can choose to run this list as a report by clicking on the report button. There are four formats available;


The register report displays a pdf summary of the list of emails in the list.

The cost report displays a pdf summary of any costs related to the email category in the list.

Export Cost Report
will generate an excel
spreadsheet listing all cost-related emails in the list.
Your browser will download the web link. Click on the file in the bottom left corner of your screen to open the report.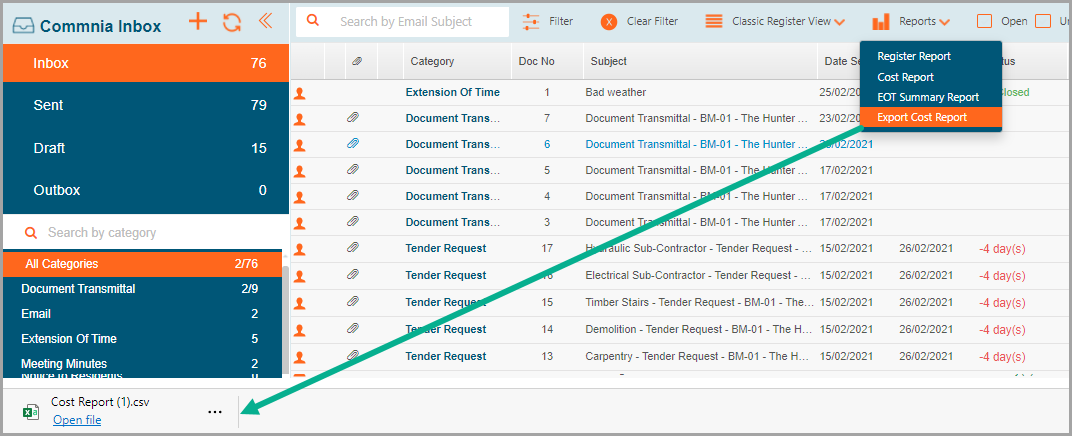 You will be presented with a cost report as per the below example;


By selecting the EOT Report, it will provide you with a breakdown of all EOT's claimed and their status associated with the project.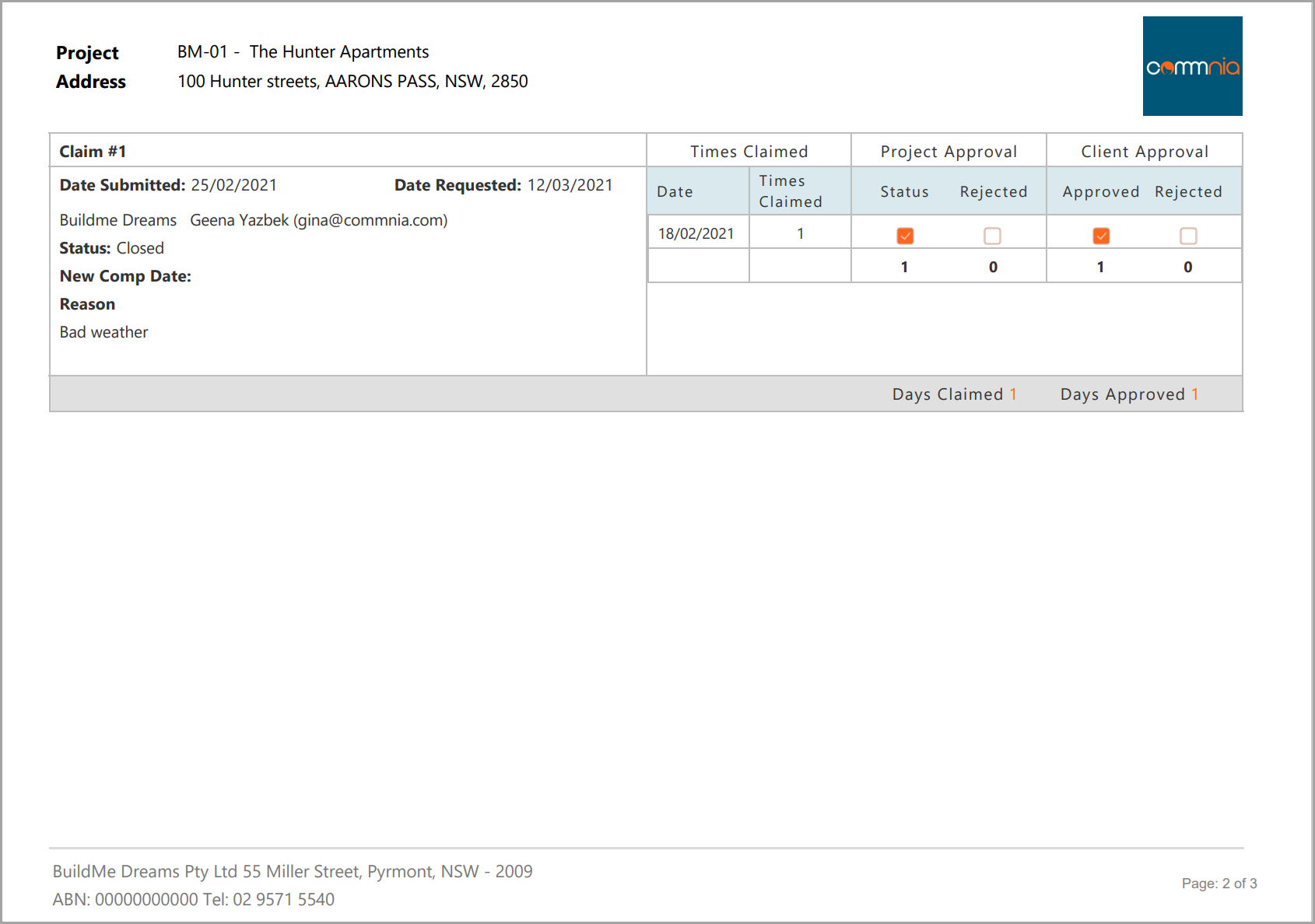 9. Inbox View

Commnia Inbox has in-built registers for all construction documents, helping you to monitor days remaining/outstanding and stay on track.

Your inbox can be viewed in three different formats; the register view, inbox view, or classic register view.

Regardless of which view you use, the email itself with all details and attachments will be displayed on the right-hand side.

The Inbox View displays emails similar to most email providers displaying the sender, subject and received date.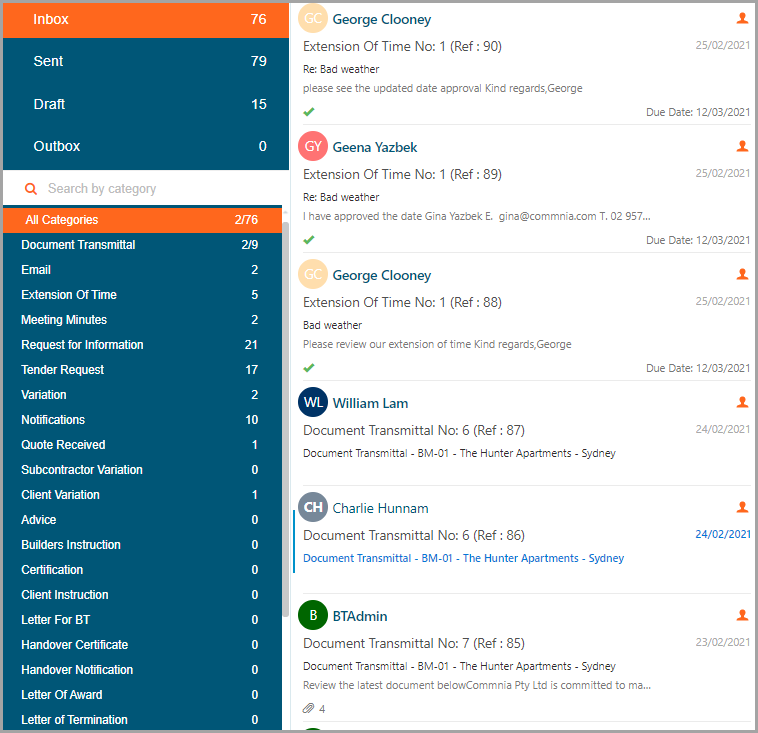 The register view and classic register view displays emails in a register format that includes information such as document category, due dates and status. They will display the first email sent for that subject.

Classic Register view is best for those working on a wider screen.